NetBet is a bookmaker that was established in 2001. For years, this betting operator has been attracting new customers with its attractive, interesting bonuses and betting promotions as well as its rich sports betting offer and good mobile betting options.
Even though NetBet is not the most popular bookmaker, it still has thousands of customers from all over the world and year by year is improving its reputation. It is definitely an interesting option for punter who want to try something new.
Advantages and disadvantages of the bookmaker
Easy interface and betting system
Asian Handicaps
Many payment methods to choose from (including Bitcoin)
Decent odds on the most popular sporting events
Rich sports betting offer
Very good mobile betting application
Disadvantages of the bookmaker
 High margins on the majority of events and betting markets
About NetBet
We would lie if we told You that NetBet is one of the best bookmakers in the world. It is not obviously. It is one of the decent ones, but nothing more. The betting operator has been offering sports betting services ever since the 2001, but it was in 2013, when they bought Bet770 bookmaker, who was more known at that time, enabled them to expand to new markets and get substantial number of new customers. Ever since then, NetBet have been steadily developing and improving its website and sports betting offer.
It must be also said that NetBet bookmaker is part of the Maltese corporate company Cosmo Gaming Company and therefore, like many other bookmakers, is licensed on the basis of the Malta Gaming Authority. It is also worth mentioning that apart sports betting, the bookmaker also offer other gambling games such as casino, Live casino and poker. Overall, this is an interesting options for both new and experienced punters who want to try something new and like to bet using their mobile device, as NetBet website is very responsive and the bookmaker has its own mobile app.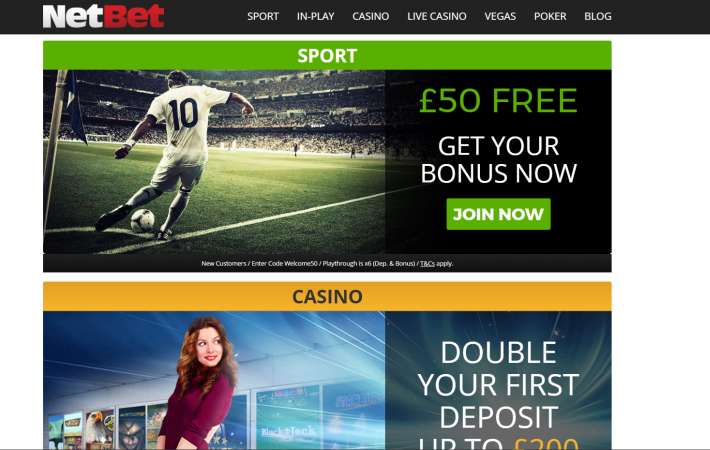 Sports betting offer
The sports betting offer of the NetBet bookmaker is fairly decent and nobody should complain about it. Obviously, some disciplines of sport have more events than others, but that is in most cases very normal in this business as apart from few exceptions, most online bookmakers tend to focus on local or continental markets. The list of available disciplines of sport as well as betting markets and options is very long and impressive and it is quite hard to see any flaw in the sports betting offer of NetBet bookmaker.
As it was mentioned before, some disciplines are more visible than others, namely football and other sports that are popular in Europe such as horse-racing, golf or even chess. What is more, the fans of more niche sports and other competitions that you can bet on, for example Esports, will also be pleased to know that NetBet bookmaker offers many betting markets on even the most exotic sporting or non-sport events. Furthermore, the list of special bets offered by this bookmaker is also quite long.
From the other hand, it is not so great when it comes to the margins and the odds offered on particular events. In the case of the most popular events the odds are fairly decent, but the situation completely changes when we talk about less-known competitions and tournaments as well as exotic or lower leagues. The margins for such less popular events is higher and the odds are worse than those offered by other bookmakers. Overall, when we look at the odds and margins offered by NetBet as one thing, we can say they are average at most, but for professional punters who like to bet on less-known markets and events, this could be quite a problem.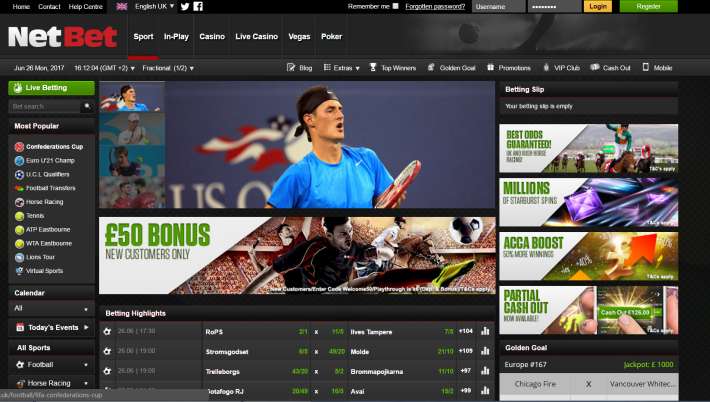 Livebetting
Similarly as in the case of the pre-match betting, the Livebetting section of the NetBet bookmaker do not disappoint and is quite good. Both the number of disciplines of sport as well as sporting events, betting markets, types of bets and various option is very large and impressive. From the other hand, the odds are very rarely on the same level as those offered by top online bookmakers. The football and tennis fans, as in the case of other online bookmakers will be the most pleased as the majority of Live bets are football and tennis matches. But that does not mean that the fans of other disciplines of sport will be disappointed. There are many Live bets on other disciplines of sport such as basketball or cricket.
Last but not least, it is very important to mention the complete lack of Live streams in the Livebetting section of the NetBet bookmaker. This is a huge disadvantage nowadays compared to other bookmakers and definitely something that NetBet online betting operator should work on if they want to be in the top of the bookmaker industry.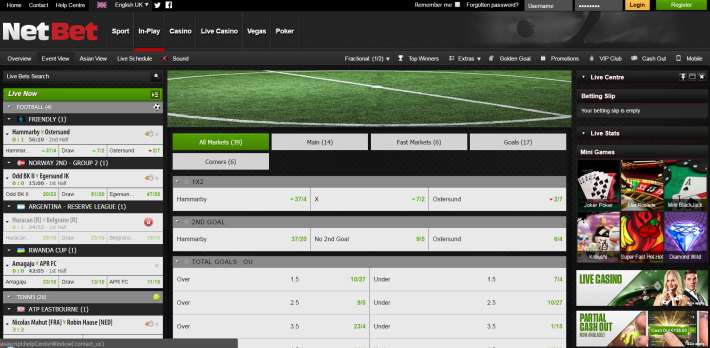 Bonuses and betting promotions
When it comes to bonuses and betting promotions, the NetBet bookmaker has quite a good offer. Apart from a substantial Welcome Bonus for the new customers, there are several other bonuses and betting promotions for the already existing customers of NetBet bookmaker. These include Occasional Bets, Enhanced Odds or Free Bets that are granted in the form of additional bets for further betting. The amounts of bonuses vary from few hundred to few thousands Euro or even…a car! We do not see anything wrong with that and so do many NetBet customers as the betting promotions and bonuses of this bookmaker are one of the more decent ones in the business. Definitely a big advantage in comparison to some online bookmakers.
Mobile version
NetBet is very flexible when it comes to mobile betting. The bookmaker offers both its very own mobile betting application and the responsive, mobile version of its regular online sports betting website. We can download and install the app for free or choose the special option on the NetBet website to switch it into its mobile version. Both methods are very quick and free and we could easily bet using our mobile devices. Furthermore, both the app and the mobile version of the website should work good on most mobile devices such as smartphones and tablets and on all mobile operating systems.
It must be also said, that the fans of mobile betting will not be disappointed as the number of disciplines of sport, sporting events, betting markets and options on Netbet mobile betting application and the mobile version of its website is almost the same.What is more, NetBet takes care of its customers very well, and it is no different when it comes to mobile-using punters. The betting operator very often grants additional funds in the form of Free Bets or other bonuses and betting promotions for using its online betting app. Overall, very strong side of the NetBet offer and not a single punter betting with mobile device should complain.
Customer support
We have tested the customer support service at Netbet by ourselves and we believe it is decent. There are many ways of contacting the professional and helpful customer support department of the Netbet bookmaker. We can do that by phone, via email or by using the special fill-in form in the contact section. The only disadvantage is that the customer support department at Netbet bookmaker, does not operate 24/7 but only in certain hours and therefore if You have an immediate issue or a very big problem that cannot take time, it will be troublesome for You, same goes for contacting the customer support from some countries that are not in the same time zone as Netbet customer support department office.
Payment methods
It must be said that both the list of the payment methods accepted at the NordicBet betting operator as well as the number of available currencies (including Bitcoin) are impressive and every punter should find a nice option for himself and will be satisfied. What is more, there should be absolutely no problems with making deposits and withdrawals as well as checking our betting account.
Furthermore, our betting funds will be very safe at the our Netbet betting account. It must be also said that the minimum limits for the deposits and withdrawals are also very good which will undoubtedly be an advantage for the less-experienced beginning and semi-advanced punters.